Information about COVID-19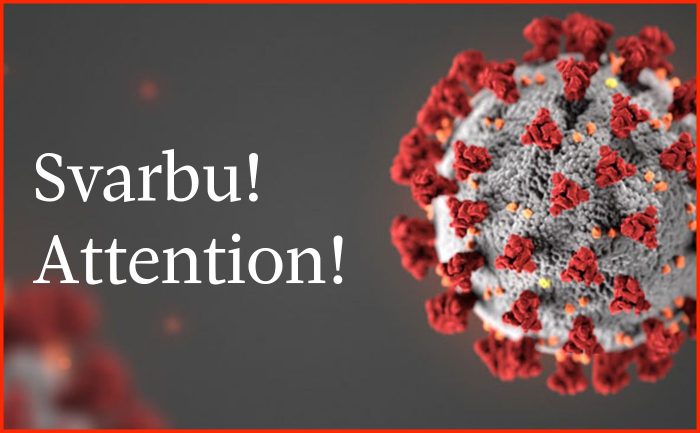 Information updated 09:40, 22th April, 2021.
Prevention Measures and Actions against Coronavirus at Vytautas Magnus University
After the Government of Lithuania declared the new tightened lockdown restrictions that came into effect on 16 December, the following changes have been introduced at Vytautas Magnus University: 
Studies are organized only remotely. It is planned that distance teaching (learning) will continue in the spring semester until the epidemiological situation changes in the country. 

Only remote work will be conducted in academic and non-academic sub-divisions. Additional changes in job contracts will not be made. 
In order to ensure the performance of the essential functions, the activities in the following university buildings and facilities in Vilnius and in Kaunas City and District are not suspended during the lockdown period: 
Rector's Office (K. Donelaičio g. 58, Kaunas) working hours I – V, 7:30 – 18:00,

 

Multifunctional Centre for Research and Studies 

(V. Putvinskio g. 23, Kaunas) working hours I – V, 7:30 – 19:30,

 

Central Building of Agriculture Academy 

(Studentų g. 11, Akademija) working hours 24/7,

 

Building of Education Academy 

(T. Ševčenkos g. 31 g., Vilnius) working hours I – V, 7:30 – 17:30,

 

Vileikos g. 8  working hours I – V, 8:00 – 18:00,
Universiteto g. 10 working hours I – V , 8:00 – 18:00

The university's student dormitories, 

The university's library sub-divisions where the services of the returning and issuing of books and other publications (based on pre-ordering) are provided: Leonidas Donskis Library 

(V. Putvinskio g. 23, first floor, Kaunas) – here publications can be returned and orders are processed for publications from the libraries of Vaclovas Biržiška, Leonidas Donskis, Central Repository, Mykolas Romeris, and Music Academy's libraries; the Education Academy's Library (T. Ševčenkos g. 31 g., Vilnius); Agriculture Academy's Library; Central Library (Studentų g. 11, Akademija, Kaunas District) – here publications can be returned and orders are processed for publications from the Central Library and the Textbooks Library.

 
Employees can be allowed to enter other buildings at a pre-arranged time by the ruling of the sub-division's head and the rector or his representative. 
Safety will be continued to be ensured in all buildings and facilities: cleaning, disinfection, ventilation, and protective equipment. 
Moreover, the following activities and services of the University are suspended:  
Services of the Botanical Garden and the Sports Centre that are directly related to physical presence of visitors in closed and open spaces, except for high-level sports competitions that must be conducted without audiences.

Activities of the Arts Centre's collectives (practice, rehearsals, and gatherings of other types)

.

All commercial and non-commercial cultural, scientific and leisure events, celebrations, and other gatherings of people in the open and closed spaces of the university.

 
In common spaces, residents of dormitories must wear protective masks, use disinfectants, maintain a safe distance, and not gather in premises for shared use (corridors, staircases, elevators, kitchens etc.).
These changes will remain in effect until the lifting of the lockdown in the territory of Lithuania. 
I kindly ask everyone to be mindful of the situation and follow the recommendations that help us remain healthy and reduce the risk of coronavirus infection: maintain a safe physical distance, wear protective equipment covering nose and mouth (face masks, respirators or other items), wash hands regularly and, if you feel symptoms of cold or other infectious diseases, stay home.
Travelling
Library services
Dormitory restrictions
Support Fund for Students Affected by COVID-19 Outbreak
Visiting VMU Botanical Garden
VMU Arts Centre, VMU Sports Centre and student organisations
Contacts
If you have any questions regarding the changes in the study organisation process at VMU in relation to COVID-19, please submit them to the email emergency@vdu.lt.
Important links