VMU Organizes Free Lithuanian Language Courses for Ukrainians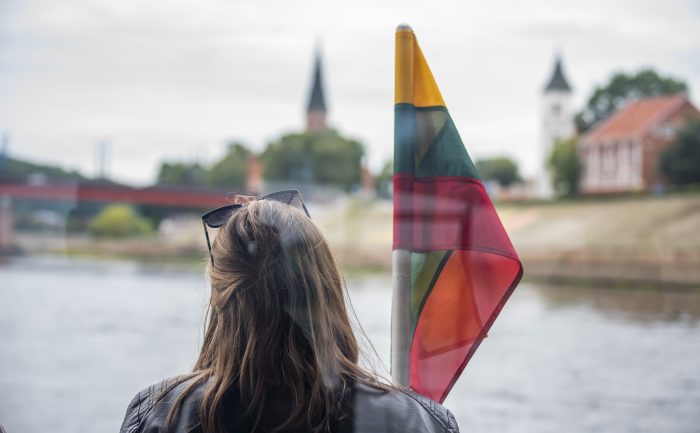 Vytautas Magnus University offers free-of-charge intensive and short Lithuanian language courses for Ukrainian war refugees who wish to learn the basics of the Lithuanian language. These courses aim to develop the language skills of those learning Lithuanian, in order to help them to adapt and live in Lithuania.
The courses initiated by VMU are designed to improve speaking and listening skills – their participants will learn to introduce themselves, provide personal information, ask for prices, ask for directions, order food, and use other useful everyday phrases in Lithuanian. Lectures will take place online and on-site in Kaunas and Vilnius according to the schedule agreed with the group. The groups are filling up very quickly: currently, around three hundred Ukrainians have responded to VMU's invitation to learn Lithuanian. Registration for the courses is temporarily suspended, but will be renewed soon – all information will be published on the website.
Lithuanians are offered Ukrainian language lessons
"Fostering the values ​​of responsibility, openness, community, and democracy, the VMU community strives to discover various areas and activities to help Ukrainians fleeing the war. We have accumulated extensive experience in language teaching, so we immediately realized that we need to offer Lithuanian language lessons to Ukrainians, as well as Ukrainian language lessons to Lithuanians who take care of them," said Assoc. prof. Vilma Bijeikienė, the VMU Vice-Rector for Communication. According to the Vice-Rector, Vytautas Magnus University has a long tradition of volunteering, so numerous members of the community, students, teachers, and alumni responded to the university's invitation to teach Lithuanian.
"Ukrainians currently need full support and help. One of the most important things for those who come to Lithuania is language, so it is very exciting that the VMU community and alumni are actively volunteering; moreover, non-formal learning activities are also being planned, such as watching Ukrainian films, a Language Café, where languages ​​will be learned in an informal setting, and tandem learning in pairs. On the other hand, the Ukrainian language has also become very important to us Lithuanians, especially those who communicate with children. Therefore, another part of the initiative is the voluntary teaching of the Ukrainian language, which was immediately responded to by the Kaunas Ukrainian community and Ukrainian students at VMU, who are now also joined by those who came to Lithuania after escaping the horrors of war in Ukraine. I believe that is what is needed today – collectivity, communication, and cooperation. Languages ​​can further strengthen this collectivity and this bridge between the nations," says Teresė Ringailienė, the Director of the Institute of Foreign Languages.
A large number of volunteers responded
VMU foreign language teaching specialists and experts meet with volunteers and prepare them for intensive teaching of the basics of the Lithuanian language. Experiences, methodological advice, and materials are shared with volunteers, and they also receive help with the development of the content of the course and the preparation of teaching materials. "Vytautas Magnus University has experts, a well-functioning classroom, distance, blended and hybrid language teaching system, and experience that we can easily apply," says Assoc. prof. Bijeikienė.
Having started the registration of volunteers last week, today we are happy with their growing number: around 100 people in Vilnius and Kaunas offered to volunteer. "In these difficult times, we want to offer our help to Ukrainians who have come to Lithuania after escaping the horrors of war. And such a large number of volunteers responded to VMU's invitation to teach Lithuanian! We want Ukrainians to feel welcome here, to help them integrate into society, we want to embrace them with words, comfort them, and try to communicate and interact with them in Lithuanian. Language learning is also a kind of therapy that allows to escape from the horrors of war. We will teach each other Lithuanian language by interacting in a simple and fun way and we will speak in Lithuanian without fear of mistakes," said Vilma Leonavičienė, the Head of Lithuanian Studies and International Programs at VMU Education Academy.
According to Prof. Dr. Regina Rinkauskienė, one of the initiative's volunteers who has been teaching Lithuanian for many years at the VMU Lithuanian Language and Culture Courses in Vilnius, today, teaching Lithuanian offers help to people who are far from home because of war. "Just like others who join these trainings, I want to help Ukrainians learn Lithuanian as quickly as possible so that they feel more comfortable in our country. And, in truth, there is also this strong wish to embrace them all and say that everything will be okay, Ukraine will be free, you will return to your homes and build the future of your country. And Lithuanian will be one more language learned that once helped to communicate and be together," Prof. Dr. Regina Rinkauskienė maintains.
Jolanta Markevičienė, the Head of the Lithuanian School "Gintaras" in Oslo and Chair of the Lithuanian Education in Norway, who has decided to volunteer, has joined the initiative because she is certain that this is how she can currently help Ukrainians. "I am a Lithuanian language teacher, I live and work in the field of Lithuanian education in Norway and have experience in remotely teaching not only children but also adults. I also have experience in evaluating Lithuanian language proficiency levels," says Jolanta Markevičienė.
You can register for the free courses and find information about the help the university offers to Ukrainians here: in Lithuanian and Ukrainian languages and in English and Ukrainian languages.