VMU invites you to 3×3 Basketball Tournament
The season of the newly established Lithuanian 3×3 Basketball League is about to start! This Saturday from 10:30 a.m. (05.14) at the VMU President Valdas Adamkus Sports Centre "ELITAS" group will play, and on Sunday (05.15) from 10:30 a.m. the most awaited clash of basketball players from the "PRO" group will take place at the "Hoptrans" Arena, which this year will be located at the VMU Botanical Garden, where the Vytautas Magnus basketball team will also compete.
"We are all thinking about Paris, but it's a long way to go, first of all we would like to get acquainted with the Lithuanian audience," said J. Okunis, President of the Lithuanian 3×3 Basketball League. – We want to see a growing interest in this sport and a culture of support. I like the fact that "Hoptrans" 3×3 Arena this year will be located in Kaunas, at the VMU Botanical Garden. I have no doubt that during summer this place will become a centre of attraction".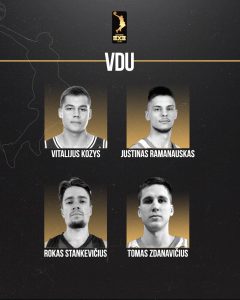 This Sunday's PRO competition will feature 7 teams – VMU, "Gargždų pramogos-Ramibėlė", Trakai "GEALAN", Marijampolė "Sūduva-Mantinga", "Palanga", BC "Jūsų Panevėžys" and "Ukraine-Kelts". The other 5 teams qualify from the "ELITAS" competition.
Come to the VMU Botanical Garden and watch the best 3×3 basketball players in the country in the middle of nature! This is the place that will be the centre of basketball attraction this year and the centre of all the events, with plenty of concerts throughout the summer. Admission to the weekend events is FREE. You will also be able to watch Saturday's game on the 3×3 Basketball Association's Facebook and Youtube accounts, and Sunday's game on Go3 TV.