Summer School: Researching Migration and Religious Diversity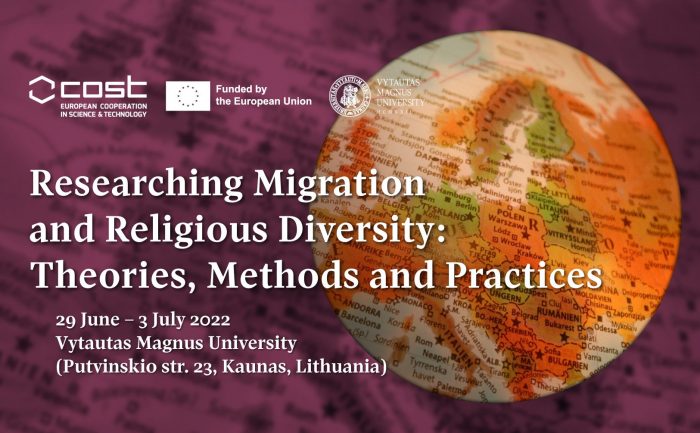 Are you a researcher of religious diversity and migration? We have some great news! COST Action COREnet invites PhD students, young researchers and innovators to gain new knowledge and experience in the summer school "Researching Migration and Religious Diversity: Theories, Methods and Practices". The summer school will take place in Kaunas (VMU), Lithuania on 29 June – 3 July 2022.
**** ATTENTION! The deadline for submission was extended. All applications should be submitted via email corenet@vdu.lt no later than May 16, 2022. Successful applicants will be contacted directly by email on May 20, 2022. ****
The goal of the COREnet summer school is to study the theories, methods and practical issues that arise during the research of migration and religious diversity. During the COREnet summer schools, its participants will work on their individual practice-oriented research project.
The final evaluation of the participants will be provided by school teachers after they submit the critical reflection of their own research project from the perspective of its practical and ethical relevance. 
The participants of the summer school will receive a certificate of attendance (3 ECTS). 
More information about the summer school.
This article is based on the work of COST Action CA20107 "Connecting Theory and Practical Issues of Migration and Religious Diversity" (COREnet), supported by COST (European Cooperation in Science and Technology).
COST (European Cooperation in Science and Technology) is a funding agency for research and innovation networks. Our Actions help connect research initiatives across Europe and enable scientists to grow their ideas by sharing them with their peers. This boosts their research, career and innovation.