More than 100 VMU Athletes Will Appear in SELL Student Games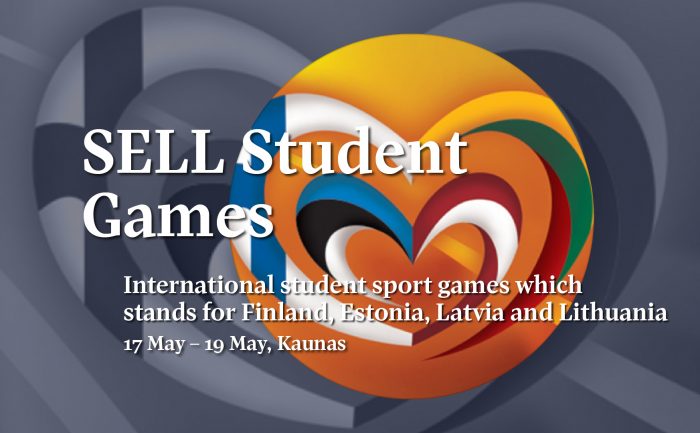 17-19 of May SELL (Finland, Estonia, Lithuania and Latvia) Student Games take place in Kaunas (Lithuania). It is an international sports competition for students.
SELL game biggest purpose is to promote student sports. This year more than 100 VMU athletes will compete in different disciplines: basketball, woman and man mini-football, weightlifting, athletics, chess, table tennis, swimming, Greek and Roman wrestling and judo.
The opening ceremony of the SELL Student Games will take place on 17th of May, 9 p.m. at VMU Grand Hall (S. Daukanto str. 28, Kaunas)
BASKETBALL

Kaunas Basketball School "Žalgiris" (Pašilės str. 41)

May 17th

10:00 VMU – KTU (2 salė)

B gr.

11:00 TTU – VMU (2 salė)

A gr.

13:00 LSU-BSU – VMU

(2 salė) B gr.

15:00  VMU – AU (1 salė) B gr.

16:00 KK – VMU (2 salė)

A gr.

May 18th

12:00 VMU – RTU

(2 salė) A gr.

13:00 VMU – LSU

(2 salė) B gr.

Play-off maches

15:00  A4 – B4 match for 7th place

16:00 A3 – B3 match for 5th place

Semifinals

17:00 A1 – B1

18:30 B1 – A2

May 19th

Finals

9:00 Women's match for 3rd place

10:50 Men's match for 3rd place

12:40 Women's match for 1st place

14:30 Men's match for 1st place

16:00 SELL Games Closing Ceremony

SWIMMING

Girstutis Pool and Sport Center (Kovo 11-osios str. 26)

May 17th

11:00 start of the competition

May 18th

12:00 start of the competition

CHESS

KTU Faculty of Elektrical and Electronics Engineering (Studentų g. 50)

May 17th

Team competition

09:00 – 10:30 check-in, technical meeting

11:00 – 11:30 opening ceremony

11:30 – 14:00 team competitions

May 18th

Individual competition

 

10:00 – 10:45 check-in, technical meeting

11:00 – 13:30 opening ceremony, I-IV rounds

13:30 – 14:30 break time

14:30 – 16:30

V-VII rounds

16:30 closing and awards ceremony

TABLE TENNIS

Vytautas Magnus University Sport Complex (Technikos str. 18R)

May 17th

11:00 Team competition

May 18th

10:00 Individual competition – men's and women's single's main tournament

BADMINTON

Kaunas Basketball School "Žalgiris" (Pašilės g. 41)

May 17th

10:00 beginning of the competition

May 18th

10:30 beginning of the competition

ORIENTEERING

Prienai

May 17th

14:00 beginning of the competition

May 18th

12:00 beginning of the competition

May 19th

11:30 beginning of the competition

JUDO

KTU Faculty of Chemical Technology Sports Hall (Radvilėnų rd. 19)

May 18th

8:30 – 9:30 wigh-in

10:30 referess meeting

11:00 start of the competition

Graikų-romėnų imtynės

Aleksas Stanislovaitis Indoor Athletics Arena (Aušros str. 42)

May 18th

9:10 – 10:00 wigh-in

12:00 start of the competition

ATHLETICS

Stadium of Alytus Sports and Recreation Centre

(Birutės str. 5)

May 17th

12:00 beginning of the competition

May 18th

12:00 beginning of the competition

POWERLIFTING

Aleksas Stanislovaitis Indoor Athletics Arena (Aušros str. 42)

May 17th

Women's category

8:00 – 9:30 weigh-in

10:00 start of the competition

14:30 victory ceremony after competition session

Men's category

13:00 – 14:30 weigh-in

15:00 start of the competition

17:00 victory ceremony after competition session

May 18th

Men's category

8:00 – 9:30 weigh-in

10:00 start of the competition

14:30 victory ceremony after competition session

Men's category

13:00 – 14:30 weigh-in

15:00 start of the ceremony

18:00 victory ceremony after competition session

Mini-football

National Football Academy (Aušros str. 42D)

May 17th

Men's football teams

14:00 A. gr. VGTU – KTU

14:00 A. gr. LSU – VMU

14:00 B. gr. SUSU – VMU

15:00 A. gr. KTU – VMU

15:00 A. gr. VGTU – LSU

15:00 B. gr. SUSU – KU

16:00 A gr. LSU – KTU

16:00 A. gr. VMU – VGTU

16:00 B. gr. KU – VMU

May 18th

Men's football temas

12:00  matches for 5-6 places

13:00 semi-finals

14:00 match for 3rd place

15:00 match for 1st place

Women Group matches

12:00 Siauliai University – Vytautas Magnus University

13:00 Siauliai University – Lithuanian Sports University

14:00 Lithuanian Sports University – Vytautas Magnus University