Join the Transform4Europe Student Ambassador Programme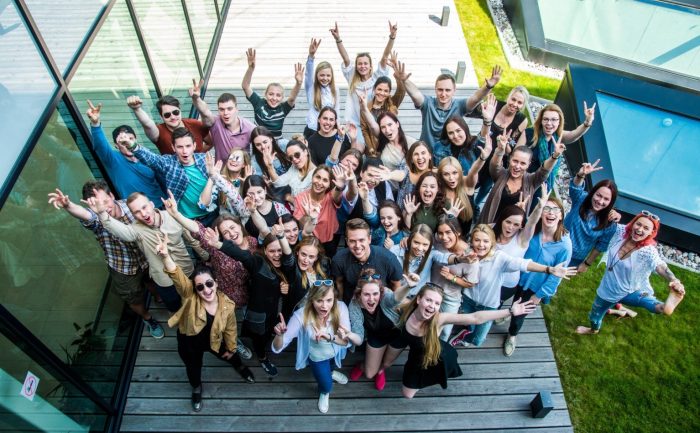 Vytautas Magnus University invites students not only to expand their horizons, make new friends and share knowledge about the university itself, but also to become official ambassadors of incoming students from Transform4Europe programme partner institutions.
 Transform4Europe: Programme description
Transform4Europe constitutes an alliance between the following universities:
Saarland University
University of Alicante
Estonian Academy of Arts
University of Silesia in Katowice
Sofia University St. Kliment
University of Trieste
Vytautas Magnus University
For more information about Transform4Europe Programme please see here.
Student Ambassador Programme
Activity description
One of the initiatives of the Transform4Europe alliance is to create a Student Ambassadors Programme providing "buddies" to welcome, foster and support small groups of visiting students from within the alliance for the whole exchange process.
The Ambassadors Programme will include an online Transform4Europe Ambassadors Network integrated in the Transform4Europe website to enable all Ambassadors from the 7 universities to network among themselves, trouble-shoot and exchange best-practice experiences.
Tasks and duties of the ambassadors
The support of the Ambassadors will be required at specific times and their tasks will be the following:
Welcoming Transform4Europe incoming students (arrival at the bus or train station, if possible, at the airport; showing them around the city – getting acquainted with information where to find Healthcare Centre, Police station, where to go grocery shopping, sport, leisure and transport information).
Support with administrative and academic issues on demand (i.e feedback on modules when it comes to complete their learning agreements, finding accommodation, registering with local authorities).
Complete a satisfaction questionnaire at the end of the activity .
Requirements
The Student Ambassadors must:
be students of Vytautas Magnus University, enrolled in any undergraduate or postgraduate degree (Bachelor, Master or PhD);
have a good knowledge of the city;
have a good knowledge of the university;
have a good knowledge of the university procedures (registration, virtual campus, etc.).
Selection criteria
good spoken English;
language knowledge of the mother tongue of any of the partner institutions;
limited ability to travel e.g. due to disabilities or financial restrictions;
desire to get to know better other cultures;
former exchange student in any Transform4Europe institution;
social activities/voluntary services.
 During this selection, 5 candidates will be selected as the Ambassadors.
Certificate
As a reward for their time as Transform4Europe Ambassadors, students will be awarded with a certificate issued by the Mobility Office, which can be added to their CV.
Applications
The candidates have to complete the application form until the 15th of November.