International Congress "CoHappiness. Rewilding & Rethinking"
"Can happiness exist on its own, without the human brain, heart, or imagination, regardless of where we might think this phenomenon originates? Or perhaps, if it ended up on an unpopulated planet, happiness would migrate into pigeons, plants, or other surviving life forms?"
Vaiva Grainytė
DATE: June 1-3, 2022
On June 1-3, 2022, Vytautas Magnus University and Kaunas European Capital of Culture 2022 are organizing the international congress "CoHappiness. Rewilding & Rethinking." The first event will focus on communities. The organizers of this event understand "communities" in a very broad sense, covering the general relationship between people, between people and not people, and between people and the environment.
During the congress, we will combine the fields of science, culture and art in order to get closer to the difficult and often puzzling for the scientists topic of happiness.
 In these turbulent times of health, ecological and social crises, we will consider and discuss different connotations of
happiness
and "blow the dust of happiness" drawing on performative and sensory experiences. We will lean on
happiness
as a precondition for forms of human communication and coexistence with humans and other life forms, species, and artificial intelligence. In this regard, we will look back and take a closer look at cities.
The events of the congress will take place for three days. Each will consist of three parts: scientific lectures and discussions in the mornings and creative-performative afternoons and evenings.
During the congress, social, philosophical, psychological and economic aspects of the concept of happiness and their relation to community will be discussed. These discussions will cover several different types of articulation: scientific discussions, individual creative work, and elements of community art and other community activism. Gediminas and Nomeda Urbonas (researchers at the Massachusetts Institute of Technology and winners of the Lithuanian National Prize for Culture and Arts, who represented Lithuania at the International Venice Biennale in 2007, and at the Venice Architecture Biennale in 2018) have been invited to advise the congress.
Articulations of creative works include writer Vaiva Grainytė's fiction work "Roses and Potatoes". This work will be presented during the congress.
The scientific part will be attended by contemporary philosopher and literary critic Timothy Morton (USA), sociologist, psychologist, researcher of happiness and founder of the World Database of Happiness Ruut Veenhoven (Netherlands), and biologist, writer and philosopher Merlin Sheldrake (UK).
Community workshops, based on collaboration between scientists and artists, will be held in three different areas around Aleksotas and Marvelė: a different space for each day of the congress. The areas are selected based on their location, symbolic importance, and links to the local community. The following are currently planned as possible locations for the event:
VMU Agriculture Academy
Kaunas wastewater treatment plant (Marvelės g.199 A)
Artillery ammunition depot on the left bank of the Nemunas River (Lakūnų pl.)
Aleksotas Innovation Industrial Park
VMU Botanical Garden (Ž. E. Žilibero g. 6)
PROGRAM
Wednesday 1 June
VMU Botanical Garden (Ž. E. Žilibero g. 4, Kaunas)
11.00
Introduction and presentation of the concept.
VMU Vice-Rector Dr. Julija Kiršienė, chair of organizational committee Dr. Jūratė Tutlytė.
12.00
Tour of VMU Botanical Garden (Dr. Nerijus Jurkonis)
13.30
Coffee break, informal conversations, a walk at VMU Botanical Garden.
14.00
Plenary (online) lecture "Different Forms, Same Life. Same Happiness": Prof. Merlin Sheldrake.
Biologist and writer, United Kingdom.
Moderated by Jurga Jonutytė.
15.00
Discussion
Moderated by Nomeda and Gediminas Urbonas.
Participants: biologist Dr. Merlin Sheldrake, biologist Dr. Renata Dagiliūtė, philosopher Dr. Aistė Bartkienė.
16.30
Coffee break, informal conversations, discussions.
17.00
Solidarity picnic. On the International Day for Protection of Children, 1 June, Ukrainians and Lithuanians are invited to attend a solidarity picnic.

Observation of live alfresco graffiti drawing "No-Fly Zone" (Lakūnų pl.). Participating artists: Maria Ospishcheva, Mariko Gelman, Scott Hattox, Tadas Šimkus.

17.30
Presentation of Vaiva Grainytė's bilingual collage novel Roses and Potatoes (published by Baltos Lankos) at the orangery of VMU Botanical Garden.

Presentation of Baby Aleksa, interdisciplinary artistic-scientific experiment of sensory experiences by Nomeda and Gediminas Urbonas. The project is developed in cooperation with the scientists Jonas Kubilius (threethirds.ai) and Prof. Dr. Tomas Krilavičius.
Thursday 2 June
Kaunas Water Treatment Company in Marvelė, VMU Agriculture Academy
15.00
Tour/lecture at Kaunas Water Treatment Company (Marvelės g. 199A). Tour by an expert of water treatment technologies Vytautas Vitkus.
Excerpts of movement art. Participant: choreographer and dancer Mantas Stabačinskas.
17.00
VMU Agriculture Academy (Parko str., Akademija, Kaunas district). A short tour, a walk (Juozas Girinas)
17.45
Coffee break
18.00
Remote lecture "How to Land on Earth". Prof. Timothy Morton.
Philosopher, author of many books on modern concept of ecology, participant of art projects, USA.
Moderated by Denis Petrina.

(Universiteto g. 8A, Akademija)

19.00
Discussion "Co-thinking and Co-creating: the World for Co-living"
Moderated by Denis Petrina.
Participants: philosopher Dr. Timothy Morton, philosopher Dr. Audronė Žukauskaitė, philosopher Dr. Mantas Davidavičius, art historian Dr. Jūratė Tutlytė, photographer and curator Alex Zakletsky.
Friday 3 June
Kaunas Fortress, Aleksotas (Kauno tvirtovės parko dirbtuvės, Lakūnų pl. 63B)
11.00
Greeting and meeting with participants.
11.30
Observation of live alfresco graffiti drawing "No-Fly Zone" (Lakūnų pl.). Participating artists: Maria Ospishcheva, Mariko Gelman, Scott Hattox, Tadas Šimkus.
12.00
Plenary (online) lecture "The Science of Happiness": Prof. Ruut Veenhoven.
Sociologist and psychologist, researcher of happiness, founder of World Database of Happiness (World Happiness Report), the Netherlands.
Moderated by Dr. Viktoras Bachmetjevas.
13.00
Coffee break, socializing.
13.30
Discussion. Otherness: a precondition for happiness or an obstacle to it?
Moderated by Dr. Viktoras Bachmetjevas. Participants: human rights expert Jūratė Juškaitė, philosopher Dr. Jurga Jonutytė, philosopher Dr. Gintautas Mažeikis, and photographer and journalist Artūras Morozovas.
15.00
Coffee break, informal conversations, observation of live alfresco graffiti drawing "No-Fly Zone" (Lakūnų pl.)
SPEAKERS
Timothy Morton
Prof. Timothy Morton, whose preferred gender pronouns are "they" and "them", is Rita Shea Guffey Chair in English at Rice University (Texas, USA). In 2020, Prof. Morton was included in the list of the 50 most influential living philosophers. Their specializations include ecological cultural and literary criticism, environmental humanities, post-humanities and other areas. Morton's peculiar conceptual vocabulary ("dark ecology", "the mesh" etc.) has been adopted by representatives of literature, epistemology, law, religion, and many other fields. Morton has collaborated with Björk, Laurie Anderson, and Pharrell Williams; their followers include many artists, writers, and celebrities.
Timothy Morton has authored over 20 books, including Ecology Without Nature, Humankind: Solidarity with Nonhuman People, Dark Ecology and others. These works have been described as a sometimes-bewildering mix of literary references, philosophical argumentation, scientific speculation, and memoir. Morton has also written 250 essays on philosophy, ecology, literature, music, arts, architecture, design, and food. According to Hans Ulrich Obrist, the artistic director of London's Serpentine gallery and one of the most influential cultural figures, Morton's books should be included among the pre-eminent cultural works of our time. In their view, a distinctive feature of our world are "hyperobjects" such as global warming or the internet. We tend to think of them as abstract ideas because we can't get our heads around them, but they are as real as hammers. "Now, doing just about anything is an environmental question. That wasn't true 60 years ago – or at least people weren't aware that it was true. Tragically, it is only by despoiling the planet that we have realised just how much a part of it we are."
Ruut Veenhoven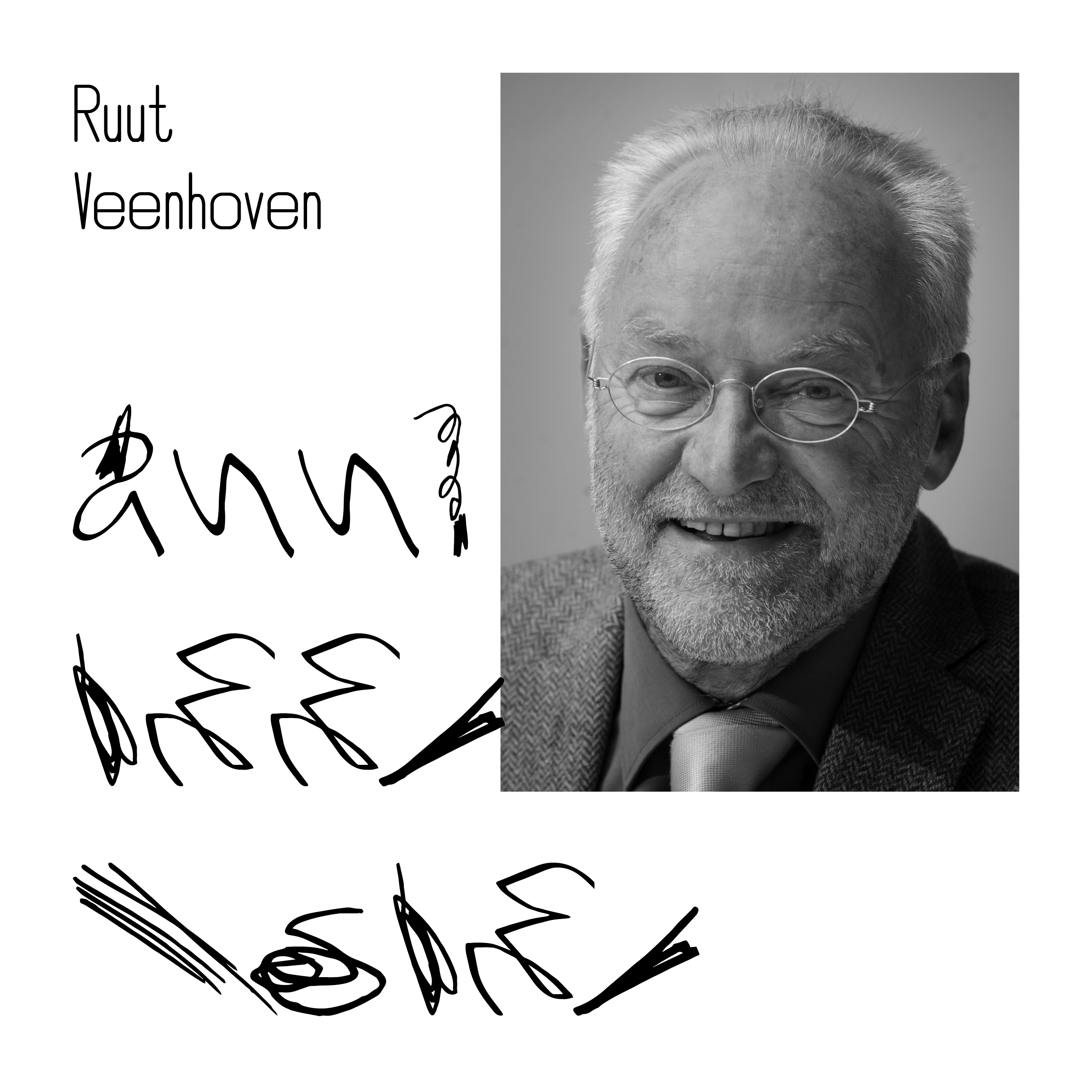 Ruut Veenhoven is a sociologist, an expert of social psychology and social sexology, and Professor Emeritus of "social conditions for human happiness" at Erasmus University Rottherdam (Netherlands). He is also an Extraordinary Professor at North-West University in South Africa, director of the World Database of Happiness, and a founding editor of the Journal of Happiness Studies. Currently, Veenhoven is researching subjective quality of life. His major publications include Conditions of Happiness (1984), Happiness in Nations (1993), The Four Qualities of Life (2000), and Greater Happiness for a Greater Number: Is that Possible and Desirable? (2010). Veenhoven has also published on abortion, love, marriage and parenthood.
Nomeda & Gediminas Urbonas
Nomeda & Gediminas Urbonas and their interdisciplinary program Urbonas Studio explore the role of art in the creation of public space in the face of widespread privatization and ecological crisis. The artists utilise and activate cultural and political imagination as a tool which enables social changes in the society. Starting off as archival research, Urbonas' ideas develop into complex, open creations that are based on participation of diverse community groups and that evolve at the intersections of art, architecture, urbanism, pedagogy, ecology, science and technologies.
Urbonas' work has been exhibited internationally in the São Paulo, Berlin, Moscow, Lyon, Gwangju, Busan Biennales; Folkestone Triennial; Manifesta and Documenta exhibitions; solo shows at the Venice Biennale and MACBA in Barcelona and elsewhere. In 2018, Urbonas curated the Swamp Pavilion, which represented Lithuania at the 16th Venice Architecture Biennale. Gediminas is an Associate Professor at  Massachusetts Institute of Technology's Program in Art, Culture and Technology, Nomeda is an MIT Research Affiliate.
Merlin Sheldrake
Merlin Sheldrake is a biologist and a writer with a background in plant sciences, microbiology, ecology, and the history and philosophy of science. He received a Ph.D. in tropical ecology from Cambridge University for his work on underground fungal networks in tropical forests in Panama, where he was a predoctoral research fellow of the Smithsonian Tropical Research Institute. He is a research associate of the Vrije University Amsterdam, works with the Society for the Protection of Underground Networks (SPUN), and sits on the advisory board of the Fungi Foundation. Merlin's research ranges from fungal biology, to the history of Amazonian ethnobotany, to the relationship between sound and form in resonant systems. A keen brewer and fermenter, he is fascinated by the relationships that arise between humans and more-than-human organisms. He is a musician and performs on the piano and accordion.
Vaiva Grainytė
Vaiva Grainytė is a prose writer, playwright, poet, and author of various texts and interdisciplinary projects. Two of her books, collection of essays Beijing Diaries (2012) and poetry collection Gorilla's Archives (2019), were nominated for the Book of the Year awards and included in the list of the twelve most creative books. The writer has also authored librettos and co-authored their concepts for contemporary operas (together with artists Rugilė Bardžiukaitė and Lina Lapelytė): Have a Good Day! (2013) earned six international awards in Europe, while the opera-performance Sun & Sea was awarded a Golden Lion at the Venice Biennale, an international art exhibition, in 2019. The trio's activities have earned them a Golden Cross of the Stage, a Borisas Dauguvietis Earring and the Lithuanian National Prize for Culture and Arts. In the spring of 2022, the writer's bilingual novel Roses and Potatoes, which deconstructs the contemporary enforcement of happiness, will be published.
Dan Perjovschi
Dan Perjovschi is a Romanian artist who uses drawings, wordplay and site-specific installations to portray current events while conducting a humorous and sharp critique of international media and government players. To violence, opulence and extremism, he responds with puns, laughter and ridicule as the protection of freedom. Inspired by current events reported in the media, Perjovschi explores topics such as the Middle East conflict and extension of the EU. His work has been widely disseminated: from walls of museums to pages of newspapers. Since 1990, he has contributed hundreds of witty and incisive observations to literary and political journals. He is an illustrator and former art director of 22, the first independent oppositional weekly published in Romania after the Democratic Revolution.
Perjovschi has exhibited at the Museum of Modern Art in New York and the Vennice Biennale as well as in Hamburg, Tokyo, Helsinki, Istanbul, Berlin, Luxembourg and elsewhere. He has won prizes such as the Princess Margriet Award of the European Cultural Foundation and the George Maciunas Prize. His work is included in the collections of the Ludwig Museum in Budapest, MOMA in New York, Center Pompidou in Paris, Moderna Museet in Stockholm and the Tate in London.
Mantas Stabačinskas
Mantas Stabačinskas is one of the most productive professionals of contemporary dance in Lithuania, who has been working and creating since 1997. For 16 years, he has worked on and developed joint creative and educational projects with the AURA Dance Theatre (Kaunas). Stabačinskas works and cooperates with Lithuania's contemporary dance professionals as well as the professionals of stage and visual arts from both Lithuania and abroad: he holds lessons and conducts educational and artistic activities as well as projects with children, the disabled, elderly etc. He has worked with over 30 famous choreographers from the USA, the Netherlands, Germany, Israel, the UK, Canada, Spain and other countries. Stabačinskas has created over 60 dance roles in theatre productions and projects and has participated in 80 international festivals in Europe, North America, and Asia. He has earned numerous awards including the Lithuanian Government's Culture and Art Prize, Golden Cross of the Stage for Melancholijos Dėžutė and Contemporary?, the award for The Most Memorable Artist of Kaunas (2020), the Contemporary Dance Association's award for the most memorable dancer activities (2018), the Kaunas City theatres' award Fortūna for the Best Dancer of the Year etc.
Organizational committee:
Mantas Antanas Davidavičius
Dainius Genys
Jurga Jonutytė
Jūratė Tutlytė
Nomeda ir Gediminas Urbonas
Ina Žurkuvienė
Congress partner