International Conference on Constitutionalism in Europe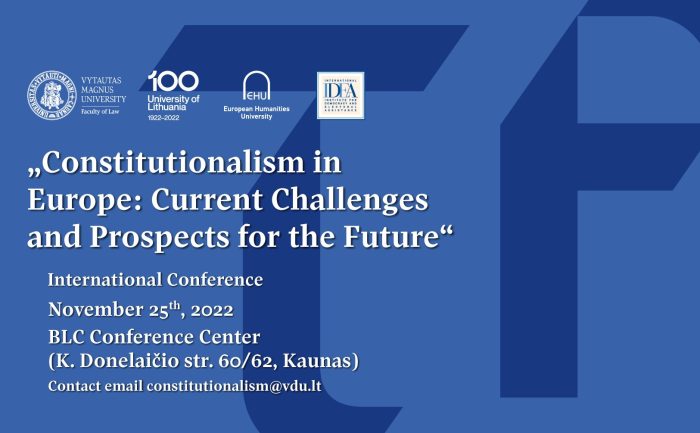 On Friday 25 November, at the VMU Small Hall (28 S. Daukanto g., Kaunas) and online via Zoom, international conference will be held by VMU Faculty of Law titled Constitutionalism in Europe: Current Challenges and Prospects for the Future.
The conference will be dedicated to the 100th anniversary of the 1922 Constitution of the State of Lithuania, the 30th anniversary of the Constitution of the Republic of Lithuania, and the 100th anniversary of the University of Lithuania, which is the predecessor of Vytautas Magnus University and its Faculty of Law.
The conference participants will be able to look for answers to the questions related to the concept of constitutionalism in Europe and the world, its contemporary features, the impact of the pandemic, terrorism, migration, populism and other challenges on constitutional courts, the development of constitutionalism in Central and Eastern Europe, the future of constitutionalism etc. The participants will evaluate the state of constitutionalism in Europe, identify achievements and the lessons learned, as well as draw attention to emerging issues and priorities for the future of constitutionalism in Europe.
The Conference is expected to unite the most prominent researchers and practitioners from all over the world. Participants are expected to include scientists and other representatives from different European countries (including Austria, Estonia, Germany, Latvia, Lithuania, Moldova, Poland, Ukraine) and Taiwan. Such a broad representation is intended to provide a wide range of perspectives and experiences about contemporary constitutionalism.
The conference is organized by the VMU Faculty of Law in cooperation with the International Institute for Democracy and Electoral Assistance (International IDEA) and the Academic Department of Social Sciences of the European Humanities University.