Transform4Europe Culture Festival: Art Projects and Centenary Marathon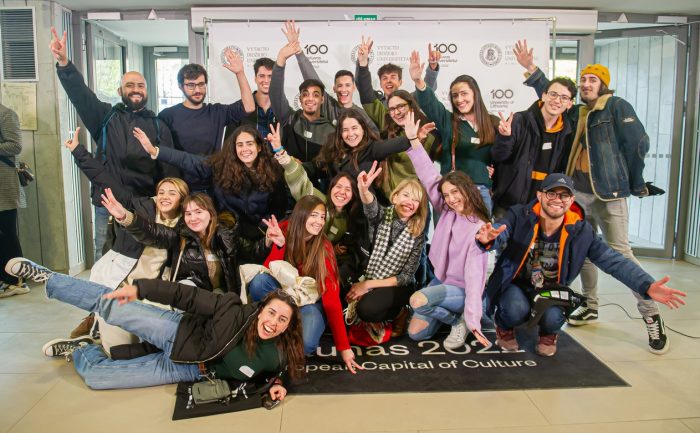 Workshops on creative writing, photography, filmmaking, art, and dance led by arts and culture professionals, as well as learning about other cultures through interaction – these are just some of the activities of the first Transform4Europe Culture Festival. This year, they have gathered several hundred guests from partner universities of the Transform4Europe Alliance, which unites seven universities, to Kaunas, the European Capital of Culture 2022.
Prof. Ineta Dabašinskienė, the VMU Transform4Europe Institutional Coordinator, shared her delight in the Festival's success: "It is so gratifying that the first meeting of the Alliance, after a long period of limited communication due to the pandemic, convened us to enjoy the student event. Their interest and involvement in creative activities pleasantly surprised the organizers. Students from various programs – from computer science, genetics, and engineering to law and philology – met for the first time to produce a joint art project. We were fascinated by their performance, and the students were excited about the unexpected opportunity to reveal their talents." This initiative is expected to be a good start for the universities in the Alliance to continue their creative projects.
The Transform4Europe Culture Festival has brought together not only the academic community, but also residents and guests of Kaunas. An event on the VMU Agriculture Academy campus attracted many visitors with dances and songs, inviting them to learn languages and learn about cultures over brunch.
During the festival, for one evening, the VMU Multifunctional Center for Research and Studies turned into a hive of modern culture. Accompanied by live music, the spaces of the building were filled with videos and portrait photographs created by students, sensitive poetic collages, drawings and paintings on the walls, and a modern dance performance.
European students also celebrated the centennial of VMU by participating in a marathon event dedicated to the university's centennial. The participants' acquaintance with Kaunas was enriched by the opportunity to join the events organized by the European Capital of Culture. The next event of the T4EU Culture Festival will take place in Poland.
Festival movie:
Photos by Dovydas Beržinis and Ugnė Serapinaitė:
The content of this publication represents the views of the author only and is his/her sole responsi-bility. The European Commission and the Agency do not accept any responsibility for use that may be made of the information it contains.