Prof. Zygmunt Bauman Held Lecture at VMU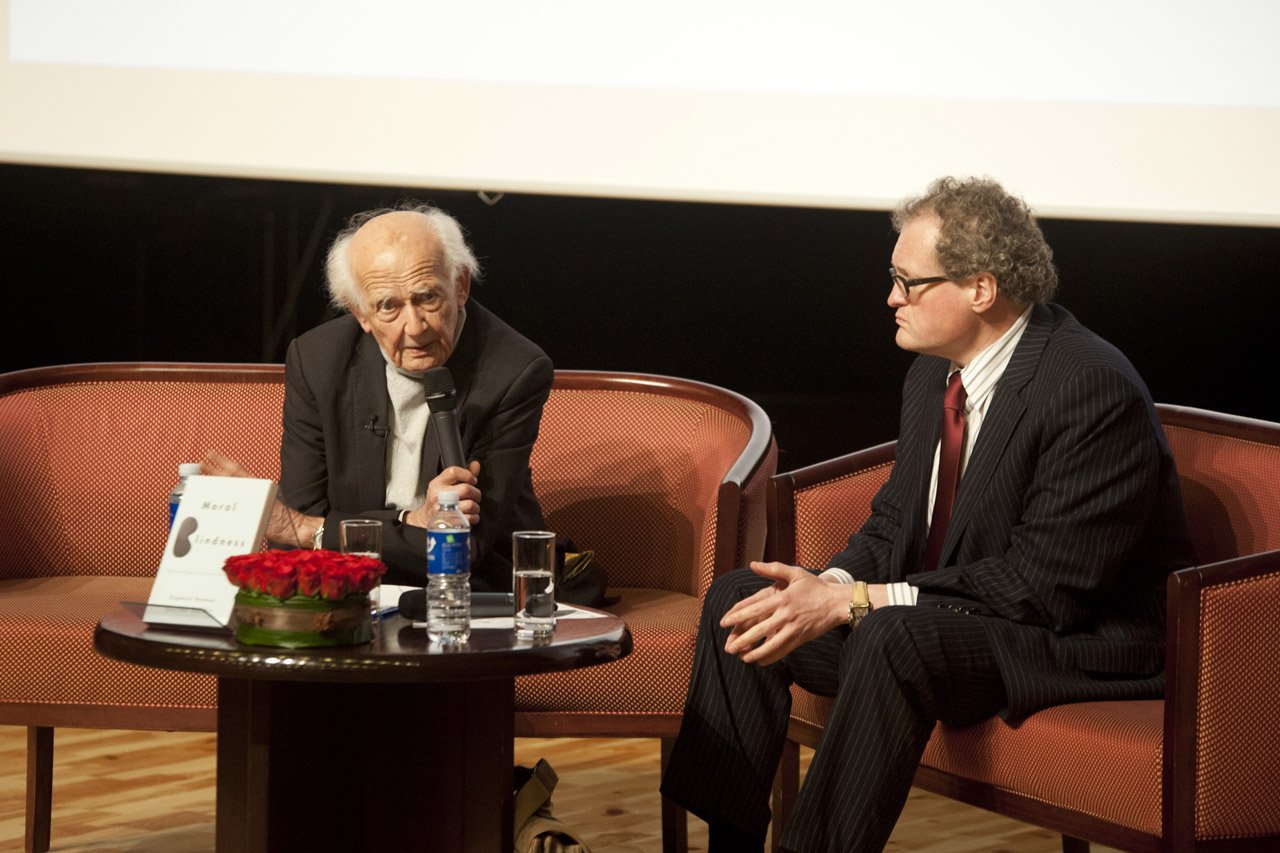 Prof. Zygmunt Bauman, one of the most prominent social thinkers and researchers of postmodernity, held a public lecture at VMU Great Hall on Wednesday 30 October. The lecture, entitled Moral Sensitivity in the Age of Uncertainty: Dialogues Between Prof. Zygmunt Bauman and Prof. Leonidas Donskis, was a part of the event series 25 Hours. VMU in the City Streets.
During his lecture, the esteemed sociologist held a discussion with philosopher, Member of European Parliament, VMU Professor Leonidas Donskis. You are welcome to view the lecture's video recording by Kristijonas Jakubsonas (k.jakubsonas@vkt.vdu.lt).
The subject of the discussion revolved around issues examined in Moral Blindness: The Loss of Sensitivity in Liquid Modernity by Prof. Bauman and Prof. Donskis. The book's authors draw upon the concept of adiaphora in order to inquire into the fate of our moral sensibilities. Adiaphora describes what is happening to society today: moral numbness. In our "hurried life" we are at risk of losing our sensitivity to the plight of the other.
The discussion was held in English.
At the invitation of the Polish Institute in Vilnius, Prof. Zygmunt Bauman visited Lithuania on 29–31 October. The sociologist also came to Vilnius: on 29 October he held the lecture Online/Offline. Life Between Two Worlds – Contradictory or Compatible? And To What Effect?.. at Vilnius University's Theatre Hall.
The project was organized by the Polish Institute in Vilnius in cooperation with Vytautas Magnus University and Vilnius University.
Prof. Zygmunt Bauman's lecture was a part of an event series dedicated to the 25th anniversary of Vytautas Magnus University's reestablishment. More information about the events of 25 Hours. VMU in the City Streets will be published on the university's website.
Programme of 25 Hours. VMU in the City Streets
About Prof. Zygmunt Bauman
Zygmunt Bauman (born in 1925 in Poznan, Poland) is Professor Emeritus of sociology who has published 57 books and over 100 articles on various subjects including globalization, modernity, post-modernity, consumerism, and morale. Today he is one of the most famous sociologists and philosophers in the world. Bauman's name is inseparable from the ideology of postmodernity, and the thinker himself is often called its prophet or herald.
The main subject of Bauman's work is the modern culture, its features and ongoing changes.
In 2007, the professor was granted the title of VMU Honorary Doctor. In October 2010, Prof. Bauman visited Lithuania and VMU for the first time ever and read the lecture entitled The Natural History of Evil.
You are welcome to view the photo report by Jonas Petronis (j.petronis@vkt.vdu.lt).